For a limited time, new cardholders can pick up 400 bonus Airpoints Dollars with Amex's top Airpoints credit card – enough to get travelling with Air New Zealand.
If that wasn't enough, the Amex Airpoints Platinum Card delivers four airport lounge entries each year (worth over $200), discounted Koru Club membership, travel insurances, and more – all for a modest $195 annual fee.
Plus, supercharge your Air New Zealand Airpoints balance with an earn rate of 1 Airpoints Dollar for every $59 spent – positioning this card as the fastest Airpoints Dollar earning Platinum credit card in New Zealand.
To receive the 400 bonus Airpoints Dollars, you must apply online, be approved and spend $1,500 on your new Card in the first 3 months. Eligibility criteria and other T&Cs apply. This limited-time offer ends 30 March 2020, so don't miss out!
Or, read on to discover the key benefits on offer with Amex's most rewarding Airpoints credit card.
Get 400 bonus Airpoints Dollars
One Airpoints Dollar is equal to 1 New Zealand dollar, with 400 Airpoints Dollars worth $400 to spend with Air New Zealand. So, simply by using this benefit, you'll more than fully offset the first-year annual fee of $195.
You can use your Airpoints Dollars for flights, rental cars, Koru membership, seat upgrades and more – it's your choice.
Enjoy four lounge passes per year (worth over $200)
The American Express Airpoints Platinum Card delivers up to four complimentary lounge visits each year.
Each calendar year, you'll receive two entries to the stylish American Express Lounge at Sydney International Airport or Melbourne International Airport. You'll simply need to swipe your Amex credit card at the door. In welcome news for families, children aged 2-17 years can join the primary Card Member in the Lounge at no cost.
Also on offer are two Priority Pass network lounge invites each membership year. The Priority Pass network of lounges is very extensive, and it includes the Strata Club Lounge at Auckland International Airport (previously known as the Emperor Lounge) and the Manaia Lounges in Christchurch and Queenstown.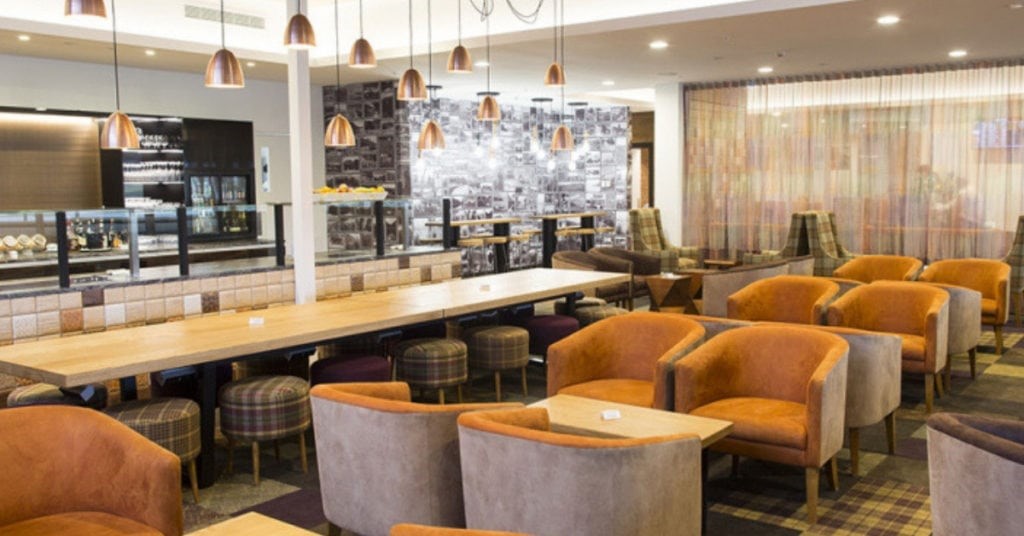 Auckland Airport Strata Club Lounge adult guest entry lounge passes cost from $49 NZD and Amex currently charge $55 AUD per additional adult entry. So, simply by using your four Lounge invites each year, you could extract over $200 in value from your Amex Airpoints Platinum Card.
Enjoy a supercharged earn rate of 1 Airpoints Dollar per $59 spent
An earn rate of 1 Airpoints Dollar per $59 spent positions the American Express Airpoints Platinum Card as one of the highest Airpoints Dollars earning personal credit cards available in New Zealand.
The network of merchants accepting Amex is extensive and growing larger each day, so there's no shortage of places where you can earn points.
And like all AMEX consumer credit cards, there's no spending cap, ever, so there is no limit to the number of Airpoints Dollars you can earn with this card.
Access a range of complimentary insurances
Get access to complimentary domestic and international travel insurance for you, your partner and dependent children aged 22 and under when you pay for travel with your card or with Air New Zealand Airpoints Dollars.
The Amex Airpoints Platinum Card is also one of the first products to offer handy smartphone screen insurance. The cover is provided so long as you pay for your pre or post-paid phone contract with your card. You can claim up to a cap of $500 for repairs twice each 12 months, paying only a 10% excess.
Before taking up these insurance products, you should check that they meet your needs. The full terms and conditions for the Amex Airpoints Platinum Card insurance policies can be found here.
Enjoy travel benefits with Air New Zealand
If you travel on Air New Zealand, you can take advantage of several benefits that can save you money and help fast track you to elite status. You'll enjoy:
Up to $400 savings on Air New Zealand Koru membership. Save $255 on your Koru joining fee, and save $145 per year on the annual fee when you become an Air New Zealand Koru member, and
Earn 1 Air New Zealand Status Point for every $250 you spend on your Card.
Unlock exclusive American Express Card Member perks
An Amex Card is your ticket to a range of exclusive offers and valuable benefits. These include:
The ability to arrange additional cards free of charge for family members
Access to entertainment offers – including pre-sale tickets, reserved seats and competitions
Amex Offers – enjoy Spend and Save promotions like Auckland Restaurant month, which we've previously written about here, and
Get peace of mind with Online Fraud Protection Guarantee
Amex Airpoints Platinum Card annual fee and eligibility
The Amex Airpoints Platinum Card comes with a modest annual fee of $195.
By using the benefits offered including the 400 Airpoints Dollars for new Card Members and four lounge passes (worth over $200), you could extract tremendous value from the first-year annual fee.
To apply for this Amex credit card, you'll need to be able to report a personal pre-tax income of $65,000.
To be eligible for the 400 bonus Airpoints Dollars, you must not have held a card directly issued by American Express New Zealand in the past 18 months.
The secure application form on the American Express website takes less than 10 minutes to complete. Amex will be able to give you a response in 5-10 working days.
Don't miss this special opportunity to boost your Airpoints Dollars balance and enjoy a range of valuable travel and lifestyle benefits.