American Express Fine Hotels & Resorts provides a range of exclusive benefits to Amex Platinum cardholders who book through the programme.
The valuable 'add-ons' on offer typically include a room upgrade when available, complimentary breakfast, guaranteed late check-out and an amenity, which is often a $100 USD credit to spend at the property.
By consuming just one stay of two nights, Amex states that it's possible to obtain an average total value of more than $750 AUD with these perks.
Intrigued, and having recently acquired the Amex Platinum Card, I was keen to put Fine Hotels & Resorts to the test.
Read on to discover the benefits I was able to enjoy at the Shangri-La Sydney, which delivered over $1,000 AUD worth of value for a recent two-night stay.
Digging into the Fine Hotels & Resorts programme
Fine Hotels & Resorts offers eligible travellers a range of valuable perks at over 1,000 high-end properties worldwide.
The programme is available exclusively to American Express Platinum and Centurion cardholders and using it can deliver serious savings for just one stay.
The benefits on offer can vary somewhat between properties. However, when booking a Fine Hotels & Resorts stay at a participating property, guests are usually entitled to:
daily breakfast for two people
room upgrade (when available)
guaranteed 4 pm late check-out
noon-check in (when available)
a special amenity at each property (such as a $100 USD room credit to spend at the property), and
in-room Wi-Fi
Choosing my Fine Hotels & Resorts property
A number of Sydney properties participate in the Fine Hotels & Resorts programme and I decided to choose a hotel close to the action by the harbour.
After undertaking some research, I settled on the Shangri-La, Sydney, located in The Rocks.
From the photos I viewed online, the property looked beautiful. A stay there would also allow me to put my Shangri-La Jade status – another handy complimentary benefit I'd acquired through the American Express Platinum Card – to the test.
At the time of writing, a stay at the Shangri-La Sydney offers the following advertised benefits via Fine Hotels & Resorts:
Room Upgrade upon arrival, when available.
Noon check-in, when available.
Daily breakfast for two people.
In-Room Wi-Fi, exclusions apply.
Guaranteed 4:00 pm late check-out.
US$100 Food and beverage credit to be used during stay

Considering the range of benefits on offer, a two-night booking for my dates represented exceptional value at $600 AUD (the equivalent of approximately $638 NZD at the time of writing).
It's worth pointing out that the Fine Hotels & Resorts rate was comparable to pricing for my dates on booking aggregator sites such as booking.com and hotels.com, as well as a direct booking via the Hotel.
However, as Fine Hotels & Resorts provided me with an extensive array of additional benefits I wouldn't be able to access anywhere else, using the programme to book my rate was a no brainer!
Here's an overview of the key benefits I was able to enjoy during my stay.
A multiple category room upgrade
Normally a one category room upgrade is provided, subject to availability. However, at check-in, I was incredibly excited to discover that I'd been upgraded multiple tiers to an Ambassador suite for both nights of my stay!
The Ambassador suites are located on the higher floors of the hotel. Mine featured glorious views of Sydney Harbour and the Opera House from the bedroom.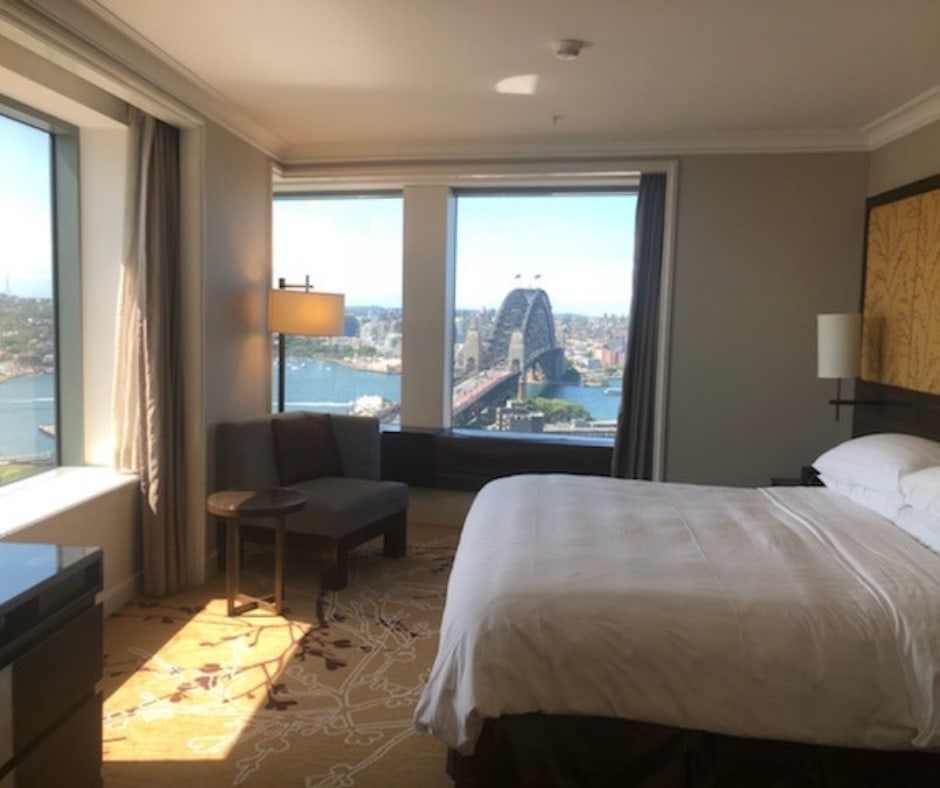 There were two bathrooms stocked with L'Occitane products (one of which featured views of the Harbour from a full-sized bathtub!).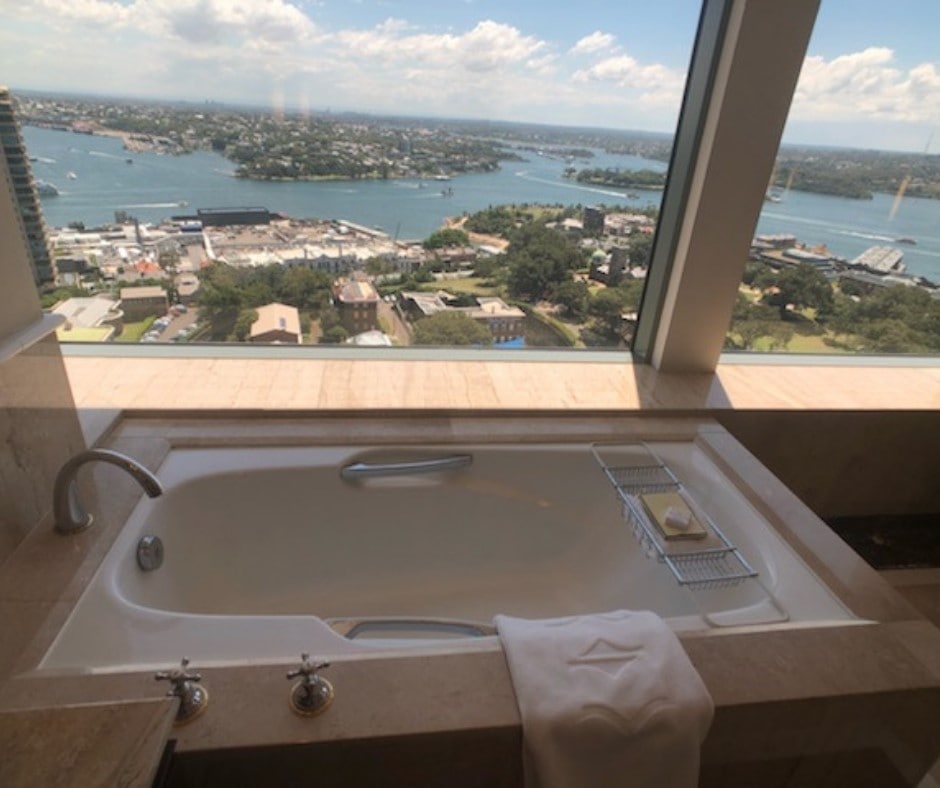 A separate sitting room provided spacious seating for six, a dedicated workspace and uninterrupted views over the Sydney Harbour Bridge.
Based on a review of room rates at the time of my stay, the price differential between the base-level room I had originally booked and the Ambassador suite was worth around $500 AUD per night ($1,000 in total).
Clearly, my suite upgrade was a one-off. However, for a single-category upgrade from a base level room, it would usually be possible to extract at least $50 AUD value per night (or $100 in total).
A $100 USD property credit
The Shangri-La Sydney offers Fine Hotels & Resorts guests a $100 USD property credit, per booking. This is an exceptionally generous amenity and it is worth approximately $139 AUD / $148 NZD at the time of writing.
The credit is loaded into your account when you check-in, and you can use it towards in-room or hotel restaurant dining, spend at hotel bars and on hotel spa treatments.
The credit can't be used to pay for the room rate, and you must consume it during your stay.
I chose to use mine towards a meal at the Shangri-La's highly regarded Altitude restaurant, and I wasn't disappointed.
Complimentary breakfast for two at Café Mix
My Fine Hotels & Resorts booking rate also provided access to a complimentary full buffet breakfast for two people both mornings at Café Mix.
Café Mix provides an extensive buffet-style hot breakfast each morning. Diners can also choose from a range of cooked to order dishes, including omelette and Eggs Benedict.
A buffet breakfast normally costs $42 AUD per person at this hotel, so this benefit was worth $168 for my stay.
Early check-in and late checkout
Booking via Fine Hotels & Resorts provided me with access to early check-in at noon and late checkout of 4 pm, allowing me to enjoy my Ambassador suite views for as long as possible.
It's hard to place a value on this, however, based on the rates that other similarly priced hotels charge for this privilege, I'll subjectively value these benefits at $100 AUD.
Additional uncosted perks for Shangri-La Jade status
As I hold Shangri-La Jade status through my American Express Platinum Card, I was also able to receive additional complimentary benefits such as a welcome platter of fruit and Shangri-La Sydney branded chocolates, which were accompanied by a lovely card from the hotel manager.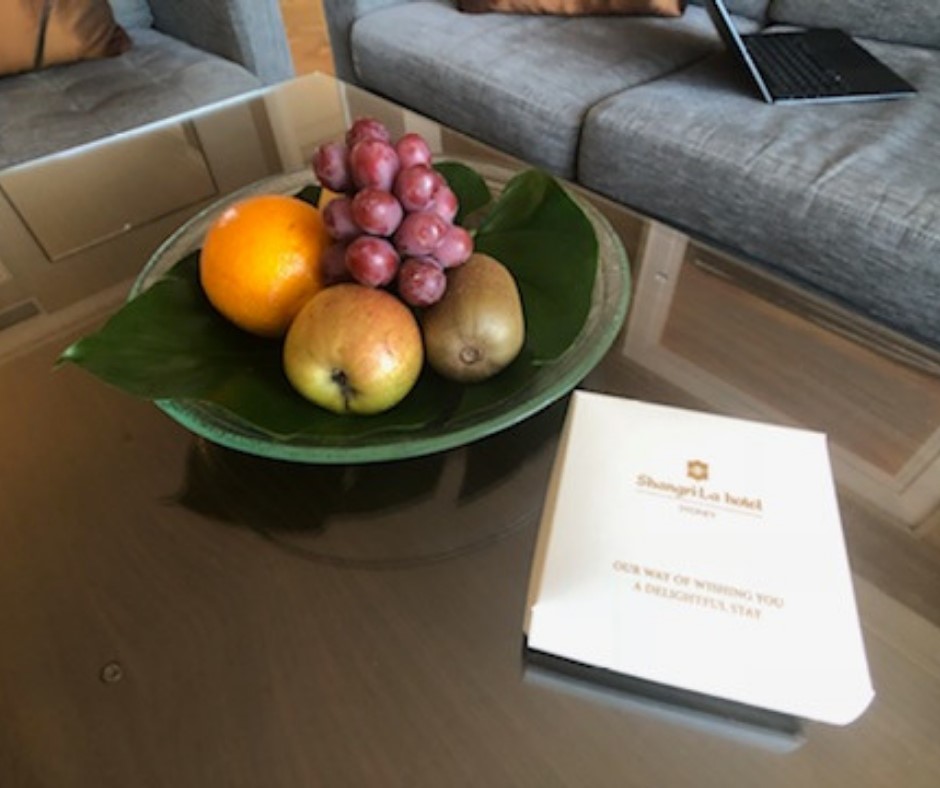 My elite status also unlocked the ability to earn Shangri-La Golden Circle points on my stay.
Conclusion
In all, the benefits for my two nights at the Shangri-La Sydney totalled well over $1,000 AUD. Receiving these generous benefits really added value to my stay.
Fine Hotels & Resorts and Shangri-La Jade membership are just some of the benefits that travellers can enjoy with the highly-rewarding Amex Platinum Card.
You can read more about the benefits of the Amex Platinum Card in our detailed overview here. To apply now and collect 80,000 bonus points as a new cardholder head here.