There was a flurry of excitement yesterday as information filtered through various channels that Cathay Pacific had released some very cheap First Class and Business Class fares originating from cities in Vietnam.
So cheap, in fact, that they were surely 'mistake' fares.
Roundtrip Business Class flights to destinations in the US could be snapped up for under $700 USD, while First Class tickets were able to be obtained from just a few hundred dollars more. First Class tickets on these routes can sell upwards of $25,000 AUD.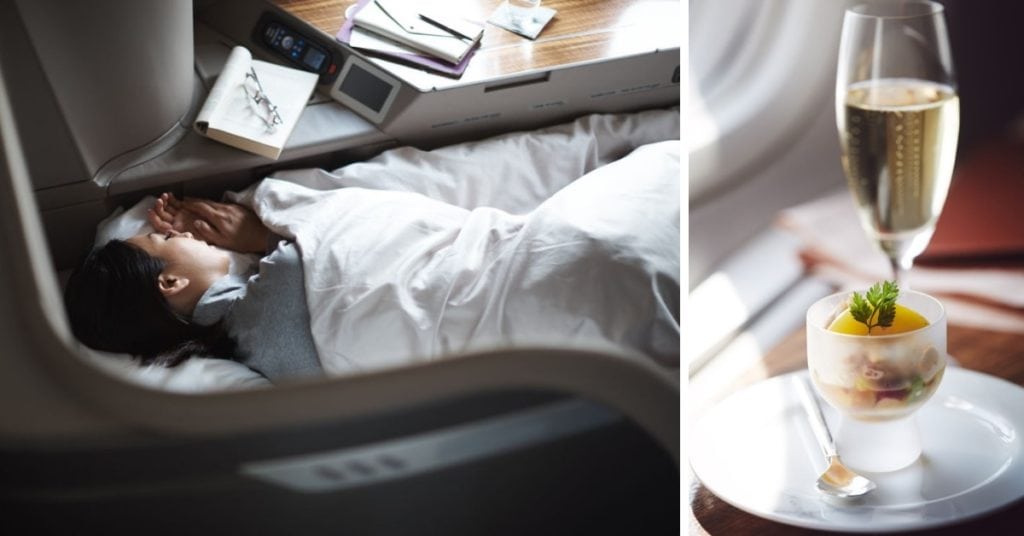 Some of the routes were pulled after a few hours, but itineraries like Hanoi (HAN) to New York (JFK) remained available to book at ridiculously low pricing for most of the day.
I was fairly certain that this was error pricing and the fares wouldn't be honoured, however I decided to chance my luck and book one. I was able to lock in return First Class flights from HAN to JFK in October for just over $2,000 AUD.

Evidently, from what I saw on my Twitter, Facebook and Instagram feed, many others decided to do the same.
Mistake fares are always a risk, so I decided that I wouldn't make any plans until the Cathay Pacific's intention around these fares became apparent.
Late in the day Cathay Pacific took some fairly drastic action – they pulled First and Business Class availability across all their routes for a short time, presumably whilst they worked through the glitch. Following this action, the sale fares had been withdrawn, with normal pricing returned. Suffice to say, we all woke up this morning nervously wondering whether Cathay Pacific would honour the mistakenly sold fares. Early in the day, reports came through from sources including the South China Post that award tickets were being cancelled for those who contacted the call centre via phone.
However, late this afternoon Hong Kong time, Cathay Pacific posted a rather lovely tweet advising that it will be honouring the fares.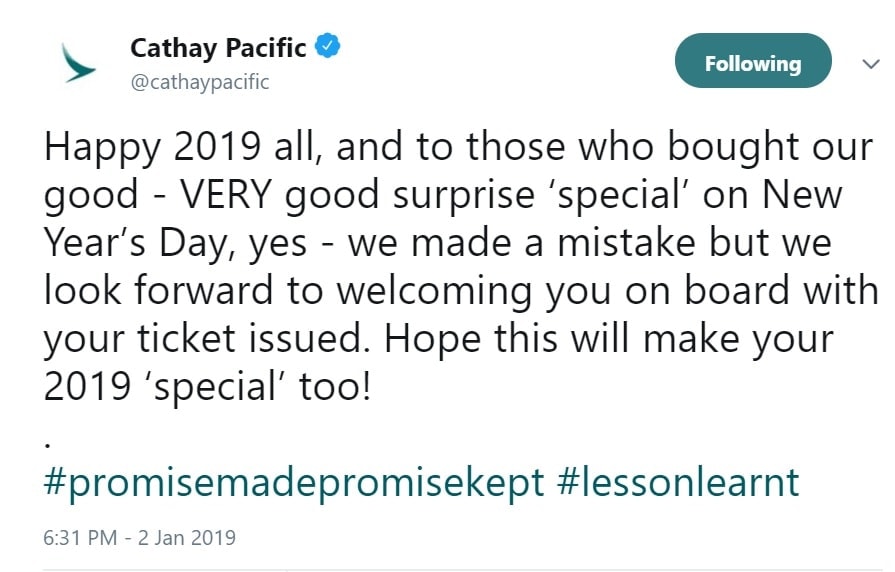 This means I'll be off to NYC in October, enjoying a glorious 32 hours in Cathay's highly regarded first class product (plus business class flights between HAN and HKG), for around $2,000 AUD. That's a bargain in anyone's book!
What we can take from this situation
Airlines release mistake fares from time to time and these can provide travellers with the potential to get a great deal. However, as regulations in most countries allow airlines to pull erroneously priced tickets without compensating those who've purchased them, it's never guaranteed.
When booking a fare that's clearly an error, it's important to wait until the airline has confirmed whether or not they intend to honour the sold tickets before you make any plans.
By announcing its intention to honour these fares Cathay Pacific will receive positive publicity and join the ranks of a few other airlines (Hong Kong Airlines and Qatar Airways come to mind) who have previously agreed to honour erroneously sold tickets. However, many other airlines routinely cancel tickets purchased as a result of pricing errors.
And while those of us who were lucky enough to book a bargain Business or First Class fare have had a great start to the new year, I'll spare a thought for those looking to book premium CX award travel into the US over the next 11 months. I suspect that the sheer volume of premium space sold as error fares may mean that available award seats are few and far between.
If you'd like to be in the know next time a fare like this is offered, subscribe to our mailing list below – it only takes a few seconds.