Auckland is the gateway to a large number of excellent destinations, particularly for those of us who are inclined to get out into nature.
We've curated a selection of five-day trips from Auckland that should be on your list. With international travel off the cards, now is the time to get out and get inspired.
How did we pick our favourite day trips? Simple. For the ultimate convenience, the destinations chosen are less than 100km travel from greater Auckland each way. As a note, even if you don't have access to a vehicle, chances are you'll be able to find an operator that can easily get you to one of the destinations on this list.
1# Explore Rangitoto Island
Leave behind the bars and eateries of central Auckland for a ferry trip on the Waitemata Harbour. In Maori "Waitemata" means "sparkling waters", and in summer, that's exactly what Auckland Harbour is. From the bottom of Auckland's CBD – Queen St, you can catch a ferry to the standout island of Rangitoto in just 30 minutes with Fullers.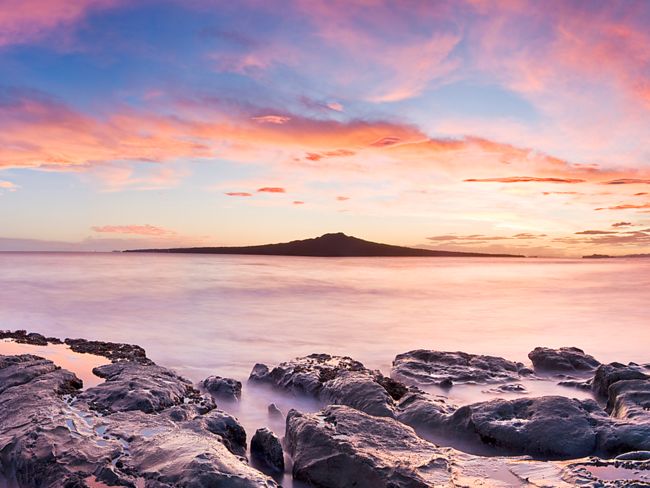 A chance to explore the not-quite-extinct volcanic shield that dominates the Auckland Harbour vista should not be missed. This 5km wide volcano is a surreal experience, so close to a major urban centre.
With jagged lava fields, a killer view from the summit and intriguing geological rock formations, this Island might be the one that helps you walk off your jet-lag. Visitors can choose to hike or catch a 4WD to the summit. Water and good walking shoes are a necessity. Expect to spend at least half a day on the island. Want further information? Discover Aotearoa has published a comprehensive write up about walking Rangitoto Island.
2# Take a snorkelling trip to Goat Island
It's surprising how few locals and tourists know about the Goat Island Marine Reserve. Spectacular for its accessibility and marine wildlife, you'll find it just 60km north of Auckland CBD. Put your head under the water and you're in a whole different world.
Jump straight off the rocks into the sea, teeming with snapper, kahawai and kingfish in summer, lobsters and a multitude of other fish. You might even catch-up with the friendly local dolphins.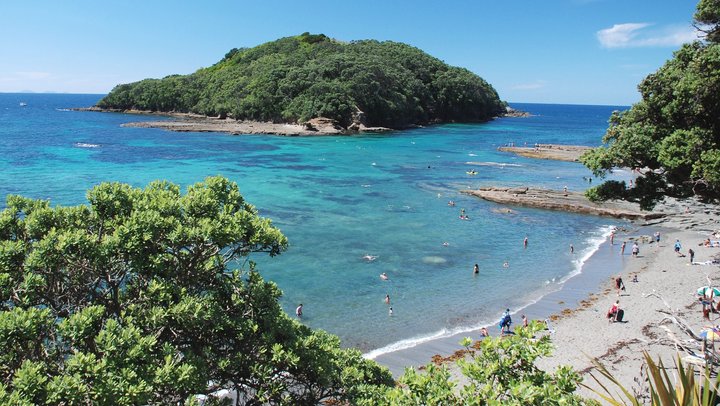 Snorkelling equipment and all the gear you may need is available for hire at very reasonable rates.
Other activities include guided snorkelling, diving, the glass-bottom boat or visiting the Goat Island Marine Discovery Centre to see some of the wildlife without getting wet.
And don't forget to sample the local fish and chips on the way home.
3# Discover Piha beach
Flying in or out of Auckland, over the Manukau Harbour, chances are that you'll have spotted the Manukau Heads, forming the southern end of the rugged Waitakere Ranges. The beaches are renowned for their black iron-rich sand, which gets very hot in summer.
The scenery is spectacular and wild – you'll feel small and insignificant on these vast open surf beaches.

Most famous is Piha Beach with Lion Rock, though it cant be climbed anymore due to a rockfall. Piha is accessible via the quaint Titirangi village cafe centre. Also worth a look are Kare Kare and Anawhata beaches, located either side of Piha.
However, the real gem of Piha though in our opinion is Kitekite Falls – this 40m, 3 tier waterfall has a beautiful swimming hole at the base. Access is via a leisurely stroll through lush west coast forest and the trail is well maintained.
4# Roam the Hunua Ranges
Why not consider a visit to the Hunua Ranges, east of Auckland by 50km and less than an hour driving.
Hunua is the largest area of native forest in Auckland. With pristine forest and a great number of tracks to explore for all ages, we recommend packing a picnic and making a day of it. And yes there is a spectacular waterfall there too!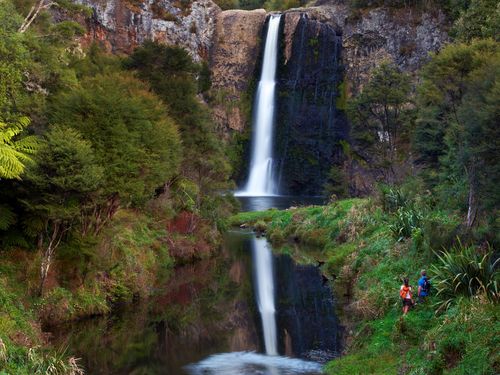 On the return, you may wish to take the scenic detour way home via Clevedon and Maraetai for scenic Waitemata Harbour views.
5# Visit Waitomo Caves
We have to be honest, this one doesn't exactly meet our Five Day Trips From Auckland criteria as it's way more than 100km, being 196km one way. However, you might consider it as part of a larger excursion southwards.
The Waitomo Caves is a must-see as millions of glow-worms radiate a luminescent light throughout the cave system. Visitors can take a small boat with an expert guide, or there are a number of alternative and more adventurous options. Remember that glow-worms turn off with noise, so noisy children will need to be managed!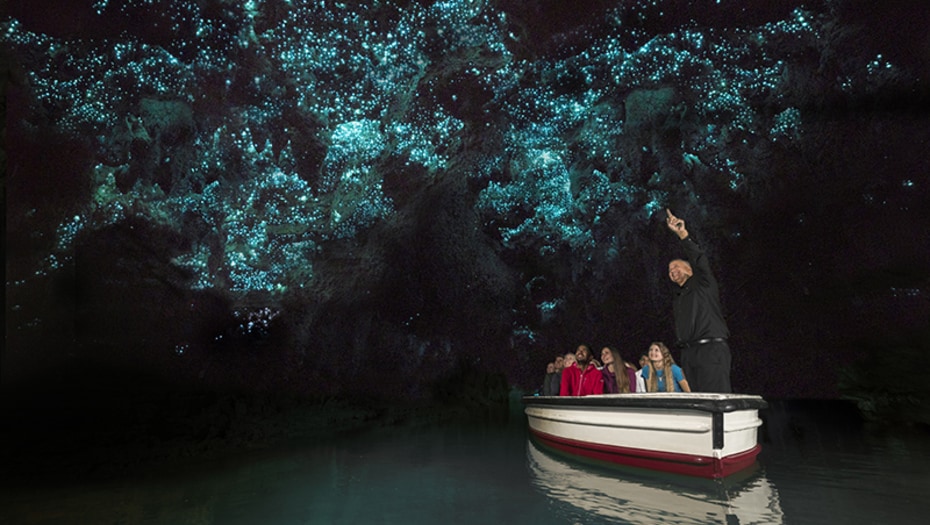 Also, behold the Cathedral cavern – at 14m in height and recognised for superb acoustics, due to the shape and rough surface. It delivers a purity of sound, a recording studio would die for!
Conclusion – plan a day trip now
Auckland has some spectacular scenery and adventure options within easy day-trip reach. If you've got a spare day in Auckland consider putting it to good use! And if you're interested in planning a trip further afield, there are many other worthy destinations in New Zealand's North Island that are worth visiting.