If you're a carded up elite member with a hotel or airline, did you know that you can leverage this status across other programs? It's called status matching, and we've put together a quick guide to how you leverage it.
The premise is quite simple. You approach other loyalty schemes and ask them if they are prepared to match your existing membership status. While some will decline, a surprisingly large number of schemes do participate in status matching schemes. And you'll have a good chance of a 'match' if you can prove that improved status will bring your travel dollars their way.
Identifying loyalty programs which offer status matching.
There are a number of ways that you can identify the airline and hotel programs that are open to matching. Of course, you could just go ahead and make approaches to a number of programs to see which ones would 'bite'. However, a number of travel forums and websites report on the success of status matching attempts. We particularly like using Status Matcher for this. The website publishes testimonials from users about their status matching activities, as well as providing a comprehensive round-up of the most recent data from airline, hotel and car hire schemes, flagging each scheme with a 'match, 'challenge' or 'deny'.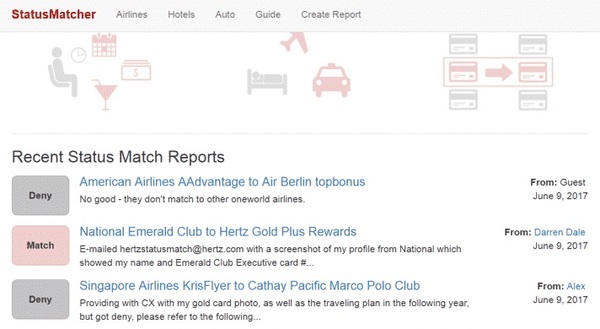 How do I approach a competitor for a Status Match?
We'd suggest sending through a quick email advising the competitor why you feel you should be awarded a match and convincing them of your value as a customer. Include the following information:
The membership number/membership tier for the scheme you're requesting a match against. Include a screenshot of your membership card, or your online account
Screenshots/details of flights and or accommodation you've embarked on (this helps to demonstrate your value as a future customer)
Detail your plans for future travel
Other ways to achieve elite hotel status
While status matching is a popular and often lucrative way to retain elite loyalty scheme benefits, there are a number of other ways you can continue to enjoy status benefits without making cold approaches to programs. These include:
Undertaking a 'status challenge', where you are tasked with making a certain number of stays within a certain amount of time, earning you status at the conclusion of the time period
Broadcast status match offers that are publicised by airlines and hotels. Often these offers will include a tailored application/submission form, and
obtaining elite status through purchase, such as via the Ibis Business Card (see also How to obtain instant Accor Gold Status)
Summing up
Elite hotel and airline benefits can be extremely valuable, and there are many ways to leverage them for future benefit. While not all loyalty schemes participate in status matches, many do, and they are certainly worth pursuing.