Would you like to earn up to $50 credit, simply for shopping small? If you hold a card with American Express, you could be rewarded for supporting New Zealand small businesses. This popular promotion offers $5 back when you spend $10 in one transaction, in-store or online at participating small businesses…up to 10 times!
New to Amex? You can browse the full suite of current card offers right here.
Already hold an eligible American Express Card? You can register for this promotion right now! Simply follow the steps below:
Step 1: Save the offer to your eligible American Express Card here.
Step 2: Spend $10 or more on your Card in one transaction, in-store at a participating small business by 30 November 2021.
Step 3: Wait for the $5 to be credited to your American Express Card Account.
Since the offer is available to use 10 times, there's up to $50 value in total!
To participate in Shop Small, you'll need to move quickly. The offer is only available until 30 November 2021 and it is limited to the first 40,000 Cards to enrol. For full terms, conditions, exclusions and to discover participating small businesses, click here.
Amex Shop Small: What's to love
Shop Small is a global movement, fully funded by American Express. In late 2020, tens of thousands of American Express New Zealand Card Members and small businesses were able to benefit from the previous round of this offer.
The way it works is simple: Amex Card Members can provide a spending boost to businesses in the local community. In return, they are rewarded with a credit back on everyday purchases or little luxuries.
2021 has presented significant challenges for small business, and the Shop Small concept is as relevant as ever. It provides much-needed support for consumers to shop locally.
Which businesses are participating in Amex Shop Small 2021?
From the butcher to the chemist, the florist, and that local coffee shop around the corner, the list of local businesses participating in Shop Small is probably much larger than you think.
Amex's network across New Zealand is extensive and it's growing every year. Plus, through Amex's partnership with BNZ, thousands more small businesses are saying 'yes' to American Express – providing you with even more places to Shop Small.
But how to quickly identify the different small businesses you can support?
Enter the Amex Shop Small Map
The handy Shop Small Map can help you find participating businesses in your local area, so you can easily plan your spending strategy. When you search the Shop Small Map, participating businesses will display. The Amex Shop Small Map is updated regularly throughout the campaign.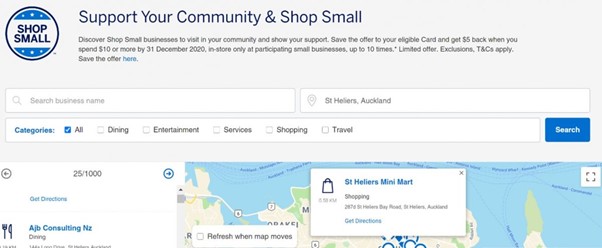 To see a full list of participating businesses you can also visit this page.
Amex Shop Small FAQs
Looking for more information on the Shop Small offer? We've put together FAQs to help you navigate this popular 'Spend and Save' offer below.
How does the Amex Shop Small offer work?
During the Shop Small campaign, eligible American Express Card Members can 'shop small' to get rewarded. Card Members who save the offer to their eligible Card and spend $10 or more in one transaction, in-store at participating small businesses by 30 November 2021, will receive a $5 credit – up to 10 times. Exclusions, T&Cs apply.
Are all Cards eligible for the Amex Shop Small offer?
As per the Shop Small Amex Offer Terms and Conditions, not all Cards are eligible for this offer. If your Card is not eligible, you will receive an error message and you will not be able to register for the offer.
What is the spend period for the Amex Shop Small offer?
The Shop Small offer will run until 30 November 2021.
When will Amex Shop Small credit appear in my account?
Provided you meet the offer qualification criteria, credit should appear on your Card Account within five business days from qualifying spend. However, Amex advises that it could take up to 90 days from the offer end date.
Credit won't be applied to your Card Account if your Card has been suspended or cancelled. The credit may be reversed if your qualifying purchase is refunded or cancelled.