Hilton DoubleTree Christchurch: Lacklustre accommodation but with leafy surrounds
The Property
Chateau on the Park Christchurch, a DoubleTree by Hilton, 189 Deans Ave, Riccarton, Christchurch.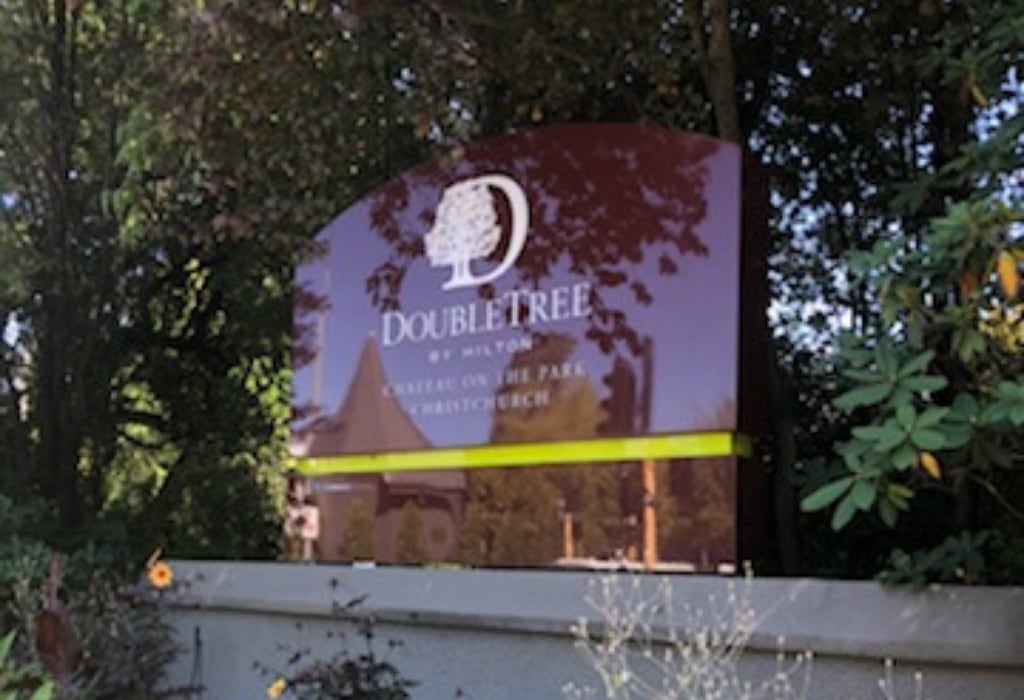 The Locale
The Chateau on the Park Christchurch is positioned in leafy, quiet Riccarton, just 2.9 kilometres from the city centre, and around a 15-minute drive from Christchurch Airport.
It's a short walk to the delightful Christchurch Botanic Gardens and Hagley Park. The Western business district and the University of Canterbury also are nearby.
The vibe
The Chateau on the Park Christchurch operates under the DoubleTree by Hilton brand, which is usually known as a chain of choice for business travellers.
However, scratch the surface further and you'll find that the Chateau on the Park Christchurch property is marketed as a Hilton Resort. Boasting a 5-acre footprint, including a moat, vineyard and tranquil rose gardens, it's not hard to see why this property also appeals to the leisure traveller.
Along with common areas, a restaurant and a bar, the property features a heated outdoor pool and modern fitness room.
Chateau on the Park Christchurch is a prominent example of Baronial architecture, and some common areas could benefit from a spruce up.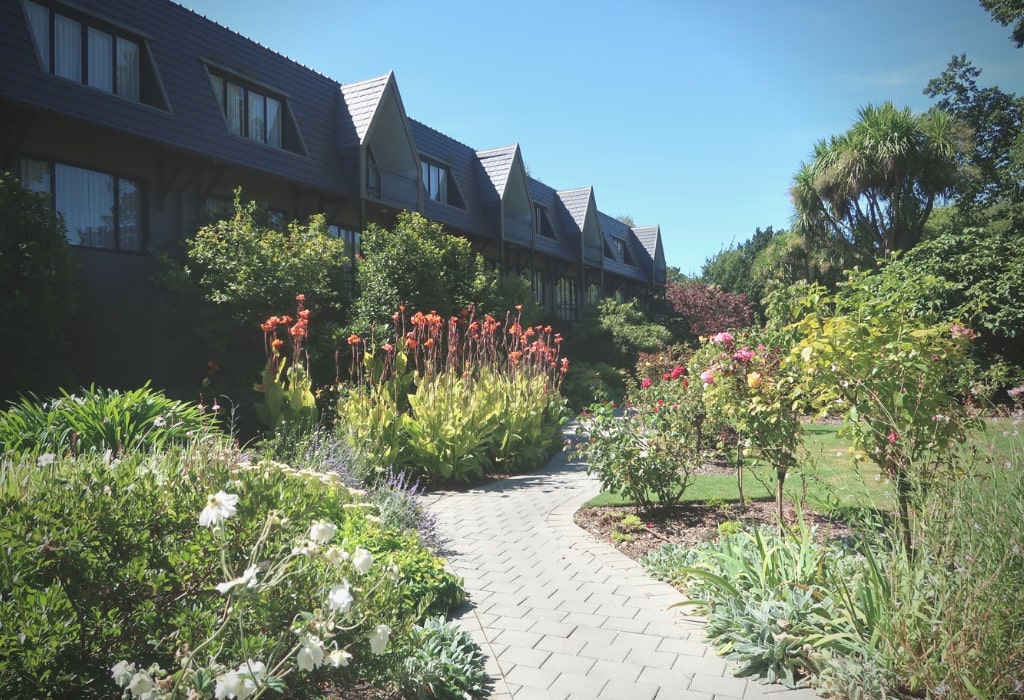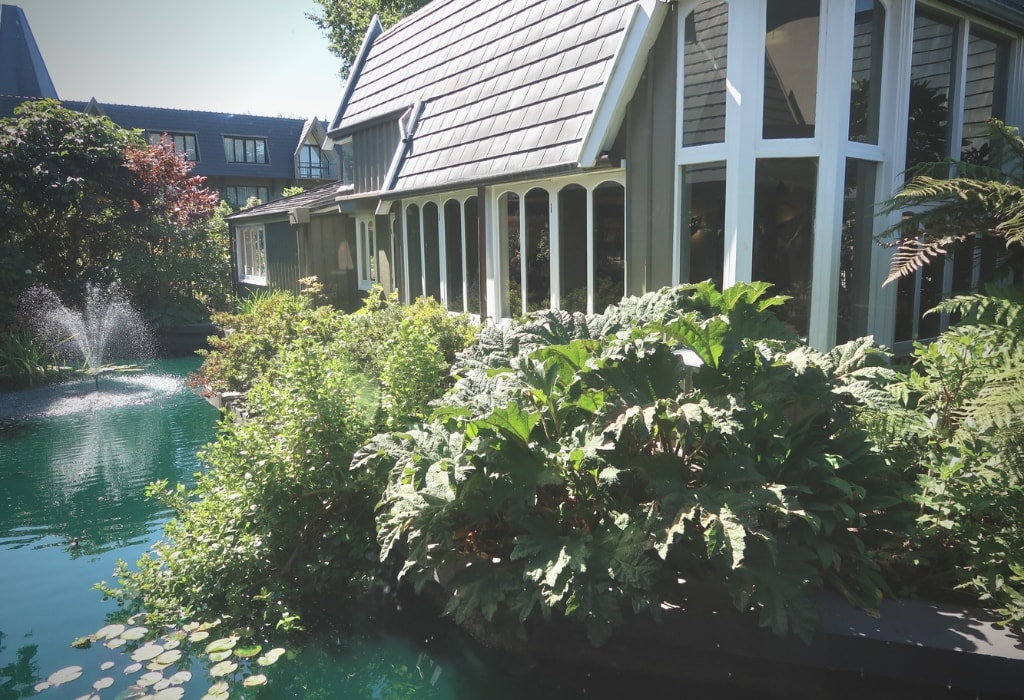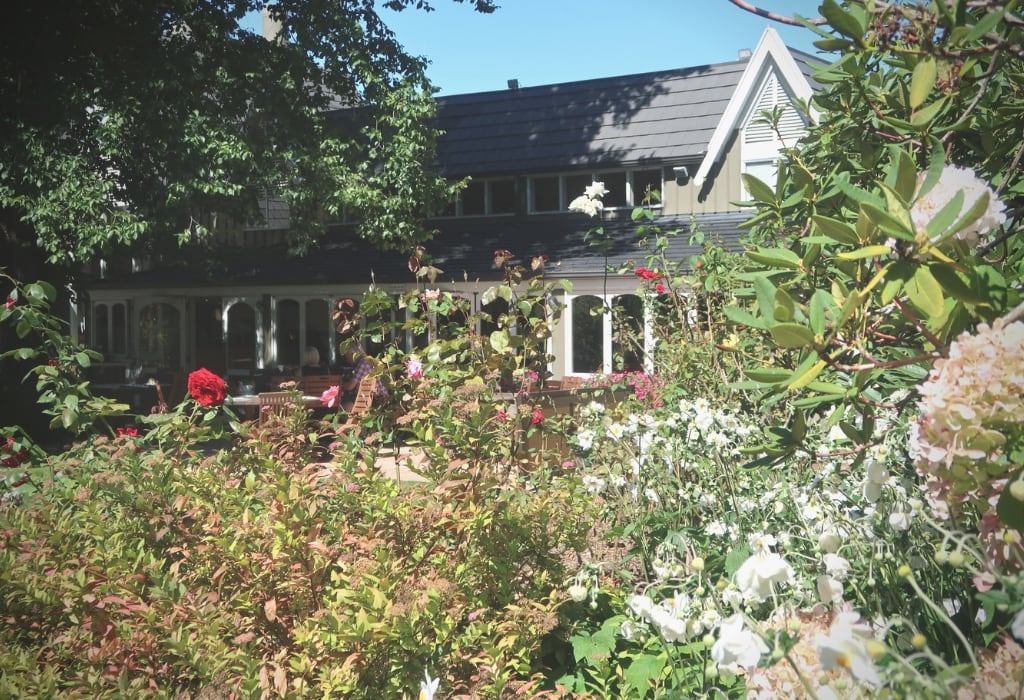 The staff
I arrive on the last flight into Christchurch, which has been delayed, and am met by the night manager, Malva, who greets me with a smile. I'm provided with a delicious cookie and a range of Hilton Honors Gold Elite member benefits (minus the room upgrade, as I discuss below).
All other dealings with staff at this Hilton Christchurch property are extremely positive, with everyone I deal with happy to go the extra mile.
The rooms
The Chateau on the Park Christchurch offers three tiers of rooms:
Refurbished Guest Room (including accessibility option)
Garden View Room, and
Suite with a jetted tub
I'm staying in a refurbished twin guest room, having somehow lucked out in the upgrade lottery, despite holding Hilton Honors Gold status. The room is basic, yet comfortable, and it's clear to see it's been recently refurbished.
The view, sadly, isn't one to write home about – there are cars parked outside my window.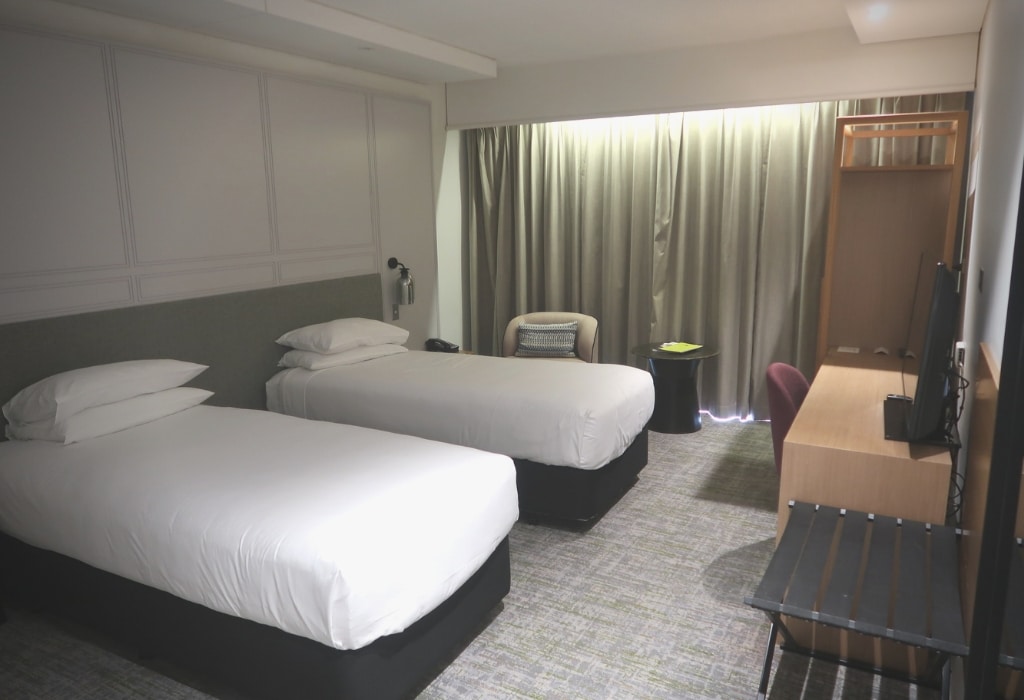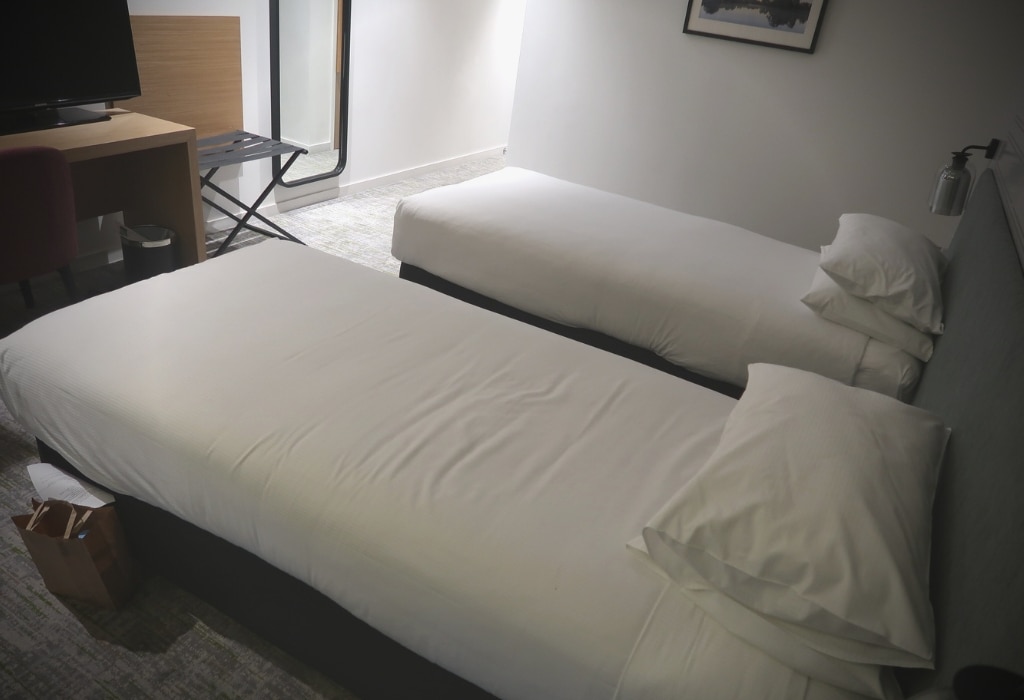 There's a separate desk for working, a large TV with multiple channels and a minibar which is stocked upon request. Other amenities include coffee and tea making facilities, a coffee table, armchair, and in-room safe.
The bathroom is modern and spacious and includes a separate bathtub. A range of high-end Evelyn and Crabtree amenities are provided, and these are generously replenished each day of my stay.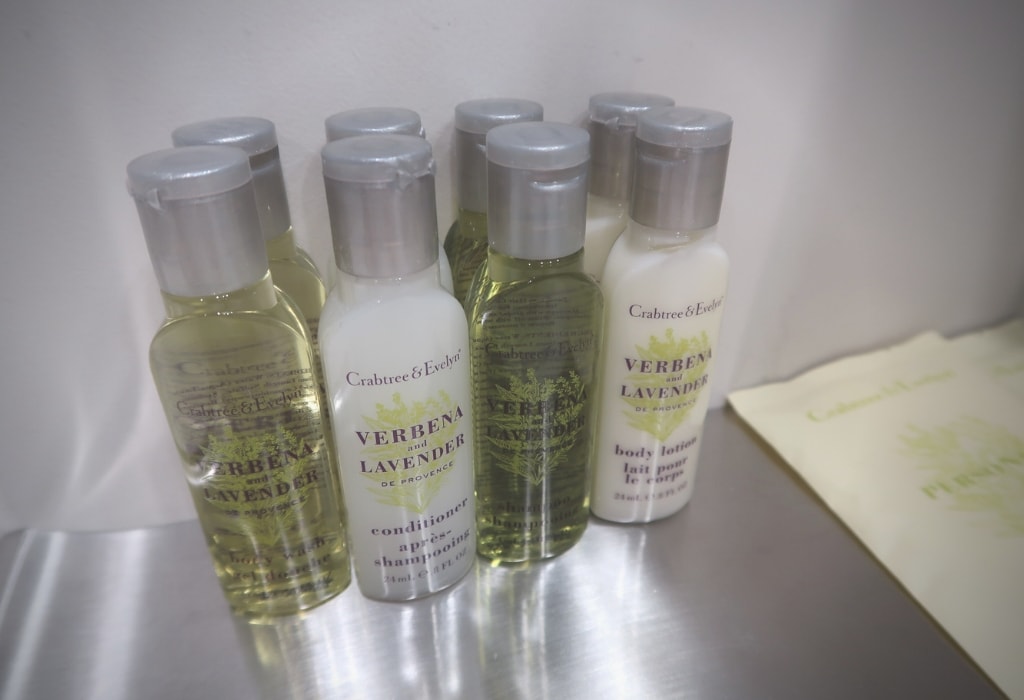 Complimentary WiFi is available for all guests, however, high-speed internet comes at a 'premium' cost.
Dining
Chateau on the Park Christchurch features relaxed, bistro-style dining at the Garden Court Brasserie (GCB). Open from breakfast through to dinner, GCB provides an ample buffet breakfast, well-cooked a-la-carte food at good prices, and a thoughtful wine list.
I visit for breakfast and enjoy a complimentary continental buffet spread, courtesy of my Hilton Honors Gold status.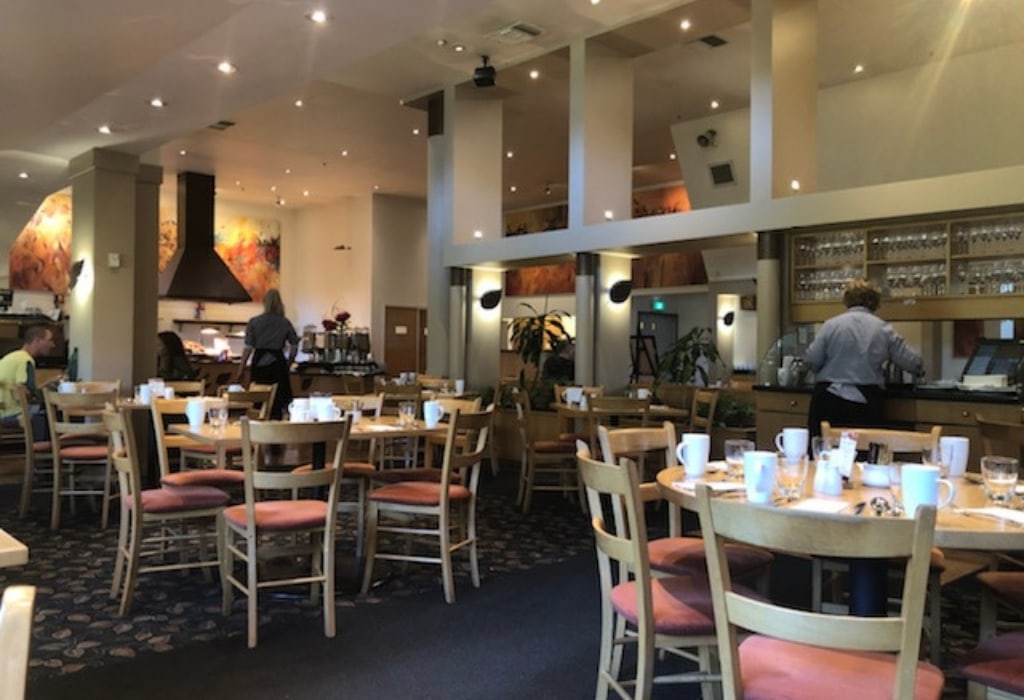 I follow up with a visit for lunch, where I dine al fresco overlooking the garden. I enjoy a huge but well-priced serve of pork belly with potato gratin and vegetables, washed down with a delightfully refreshing glass of Pegasus Bay Riesling.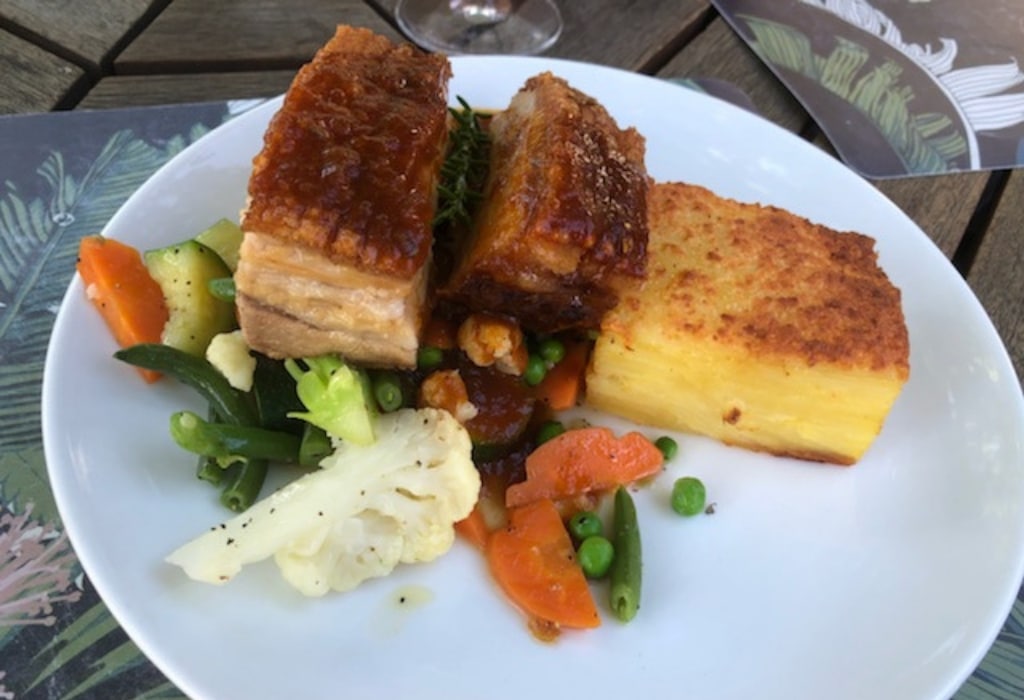 Chateau on the Park Christchurch – The verdict
This Christchurch Hilton property is a solid, comfortable accommodation option just outside the city, and close to some of the very best delights the Garden City has to offer. Whether you're a business or leisure traveller, take some time out to enjoy the tranquil gardens. And choose your room carefully.