UPDATE: As of late March 2019, Air New Zealand announced that passengers on its WiFi-enabled aircraft will continue to be able to access free Internet indefinitely on international flights.
---
Air New Zealand WiFi started rolling out on flights in mid-2018, and to some, it may feel like it's been a very slow process.
However, the Air NZ WiFi rollout appears to have acquired momentum in recent months, and 2019 is bound to see a large ramp-up of travellers experiencing wifi in the air. Read on to discover how you can enjoy Air New Zealand WiFi on your next flight, and find out the answers to questions that we commonly get from our readers.
Is Air New Zealand Wi-Fi free?
Yes, this has been the case for a while, but the offering has certainly evolved.
From 1 December 2018 to 28 February 2019, wifi on all domestic and international enabled planes was made free. This included the newly refurbished 777-300s, the 777-200s (17 x 777's in total) and those in the fleet as wifi was progressively rolled out in 2018/19.
In late March 2019, Air New Zealand announced that passengers on its Wi-Fi enabled aircraft will continue to be able to access free Internet indefinitely on international flights.
Which Air NZ aircraft are equipped with inflight wi-fi?
WiFi is now enabled on 17 of Air New Zealand's 777 and A320 short-haul routes to Australia and the Pacific Islands. By 2019, the remaining significant fleet aircraft – 787's and newly delivered A320 /321 NEO domestic aircraft will be WiFi ready.
How do I connect my device to Air New Zealand WiFi once onboard?
Air New Zealand's inflight wifi is available after the aircraft has reached cruising altitude and the seatbelt sign has been switched off. Once you are told you are able to use electronic devices after take-off, you need to:
Turn off mobile services (for safety reasons)
Activate Flight-mode
Enable on Wi-Fi
Search and connect to Air NZ_InflightWiFi
Open a browser
Type wifi.airnz.com in the address bar to reach the Wi-Fi portal
Follow the instructions
Connect and surf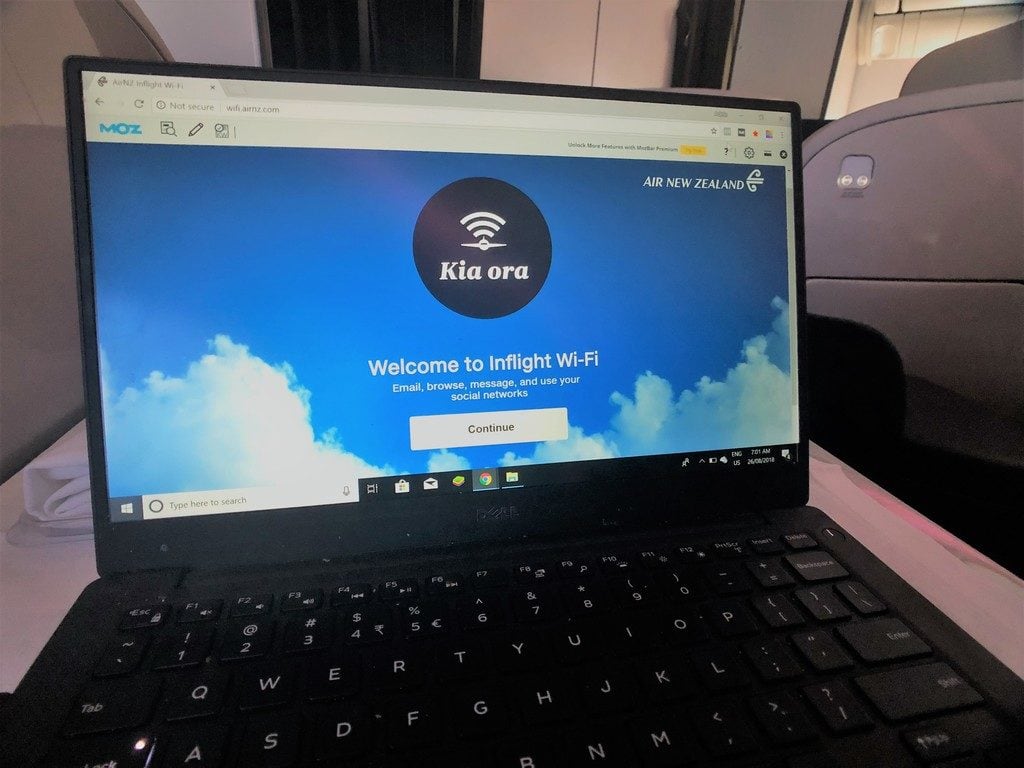 How can I check if my Air NZ flight has WiFi?

You can use FlightRadar24 to see what sort of aircraft you're scheduled on – obviously, this can change right up to the last minute. Chances are that if you're on a 777, you'll have Wi-Fi and there is even a new A321 Neo floating around with it. 787's will likely be configured in 2019.
Alternatively, a wifi logo will appear next to your flight details in your flight booking details on the Air New Zealand website.
Which devices can be connected to inflight WiFi?
You can access Air New Zealand WiFi with any device which has a WiFi connection and a browser. Laptops, smartphones and tablets are all usable. Remember that you'll only be able to access your laptop once the seat-belt sign has been switched off.
Are there restrictions on how Air NZ WiFi can be used?
Yes. Air New Zealand clearly states the limitations of the service:
"We want to make sure everyone who's connected gets a fair share of the service. To help with this, we control the internet speed and block certain data-heavy services, like large file downloads, video and audio streaming, VOIP, and cloud services. That way everyone can get a good experience."
It is also stated that Air NZ will block some content that could be offensive to your seatmates. And, sadly, streaming apps like Netflix are currently not supported.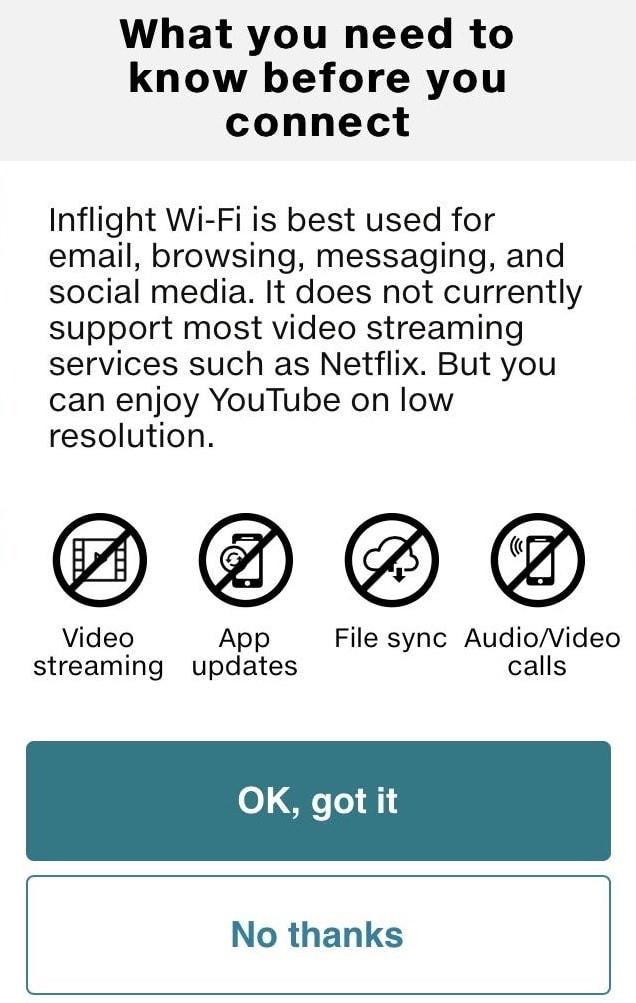 As a rule, browsing, emailing, messaging, and posting on Facebook are well supported. These activities are known as "data-light".
Are there any protocols I should observe?
You'll need to ensure you keep flight mode activated on your device throughout the flight. And for the courtesy of others in the cabin, no voice and video calls are allowed. You're also asked to switch your device to silent.
Is Air New Zealand WiFi free?
Air New Zealand normally levies a charge for international usage but the good news is that for a limited time (until March 2019), access to WiFi will be free.
Prior to this, in May 2018, Air New Zealand commenced services at $40 a sector, receiving negative press in the process. In particular, flights to Australia were singled out as representing particularly poor value. The absence of a one hour pass was frustrating.
Two furthers round of pricing revisions have seen price drops and plan changes, as can be seen in the accompanying image.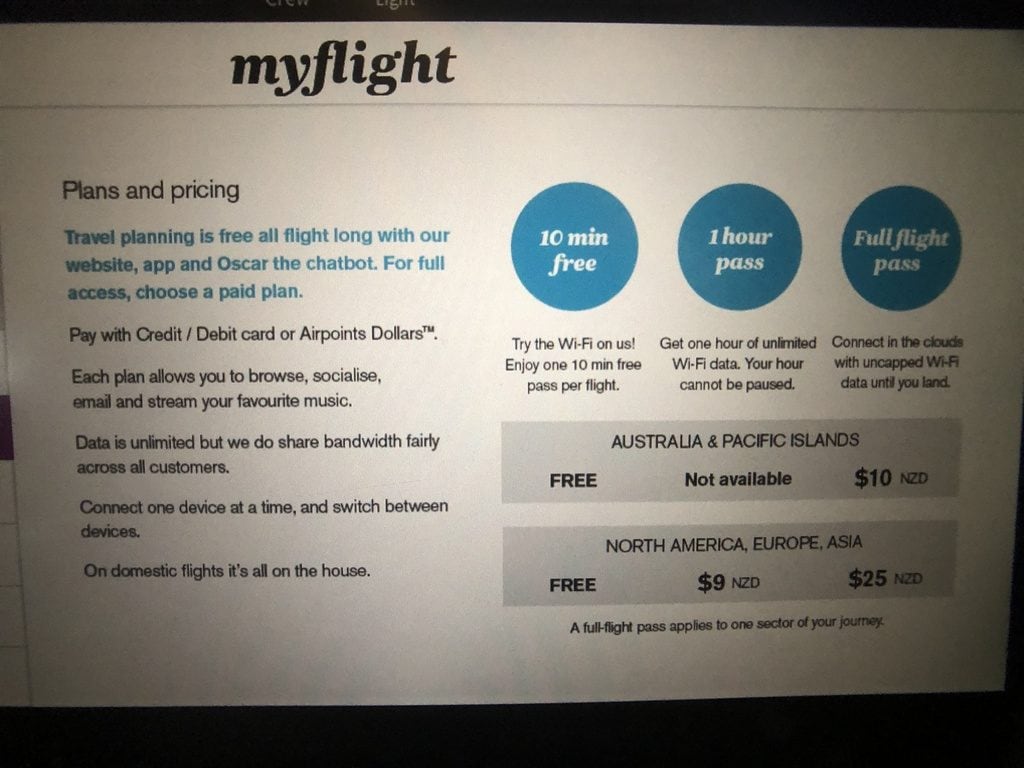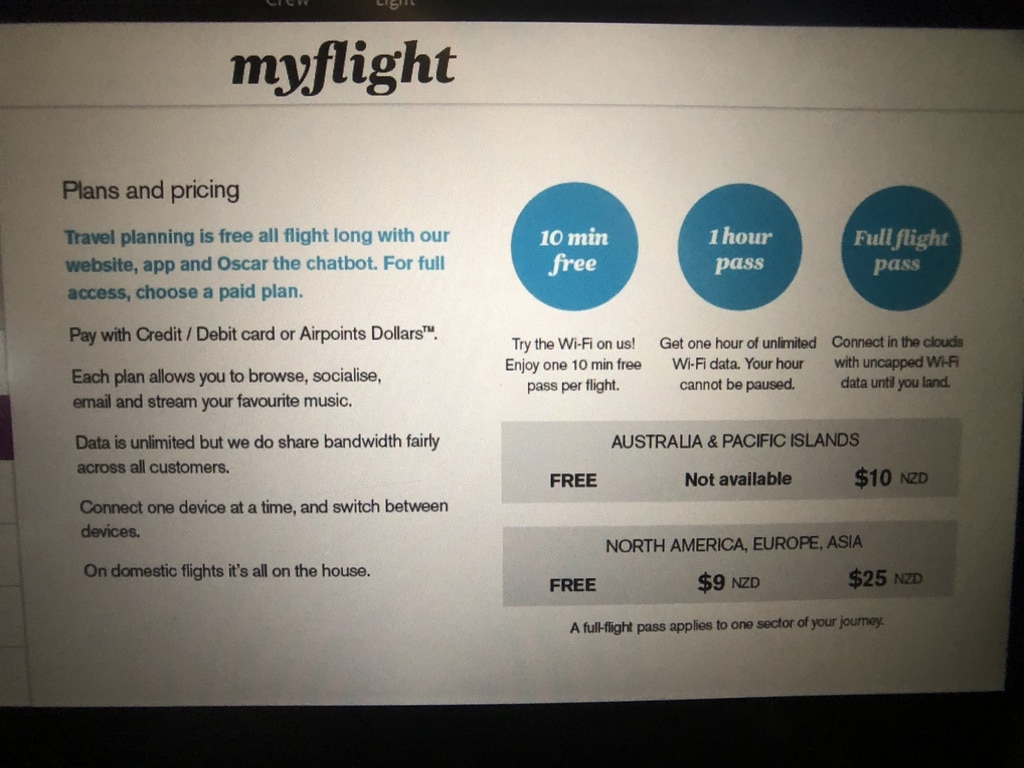 Things start to get expensive on multi-sector trips however, and the pricing remains a barrier to uptake on a family basis. Take flights to Europe from New Zealand, for example. For two 2 sectors, the cost (outside the current free WiFi promotion) is $50 per person.
Do other airlines charge for inflight WiFi?
Some carriers (including Singapore Airlines, Virgin, American Airlines and Emirates) do charge for service. Qantas does not currently charge for the use of domestic inflight WiFi. Domestically, Qantas delivers the service via the nbn satellites situated over Australia. Qantas is still developing its international offering, noting a number of issues. Whether a charge is levied in the future remains to be seen.
How fast is Air New Zealand WiFi
Air NZ claims its speeds are comparable to 3G mobile, but realistically you might suggest medium ADSL of 2-5Mbps is more realistic. Furthermore, speeds won't be mind-blowing, internationally. Congestion is likely at the beginning and end of long haul flights.
Services are good enough for checking email, and low-speed network access. As for streaming movies… we'd suggest watching the inflight entertainment to avoid frustration or the Air NZ firewall. The latency is what will frustrate users.
How does Air New Zealand WiFi actually work?
The service is asymmetrical – meaning the download capability exceeds the upload capability. Just like normal retail internet service, the user is unlikely to notice the constraint. In addition, bandwidth is shared across all passengers on the plane.
Antenna equipment is located within a blister, approximately 1/3 of the way down the plane on the roof. Air New Zealand has partnered with satellite company Inmarsat for the space component. In the cabin, Panasonic Avionics provides the connectivity hardware.
Conclusion
It's great to see free Wifi until March 2019 and even better is Air NZ beating Qantas to the punch with international WiFi.
However, the reality is that WiFi on a plane is at best a way to keep in touch with the outside world. It's not going to allow you to stream content like you're in your living room. If you want that, stay at home where the seats are more comfortable.
Will your next Air New Zealand flight deliver an enjoyable Wifi experience? We hope so!